< Back to list
Warning notice of posting products of liquids for use in electronic cigarettes
Dear Alibaba.com members,
In accordance with supervisory regulations issued both in the People's Republic of China and applicable international standards, please be notified again that Alibaba.com marketplace prohibits the posting and sale of all tobacco products, including but not limited to liquids for use in electronic cigarettes (or electronic nicotine delivery systems, ENDS), smoking oils, and other related products such as disposable electronic cigarettes with prefilled e-liquids and prefilled cartridges containing e-liquids. Alibaba.com has commenced removal of listings which are in violation of this rule, with 6 penalty points applied per infringement.
Recently, we noticed that there are listings for disposable electronic cigarettes, electronic cigarette accessories, e-liquid fragrances and flavors, and bottles used for containing e-liquids have also included information referring to the sale of e-liquids on Alibaba.com marketplace. In Such listing or marketing of e-liquids and other prohibited products will also result in removal of infringing listings, with 6 penalty points applied per infringement.
The posting or sale of liquids for use in electronic cigarettes is strictly prohibited on the platform; such prohibition includes, but is not limited to, the following :
1. Disposable electronic cigarettes with prefilled e-liquids or electronic cigarette accessories with prefilled e-liquids. For example: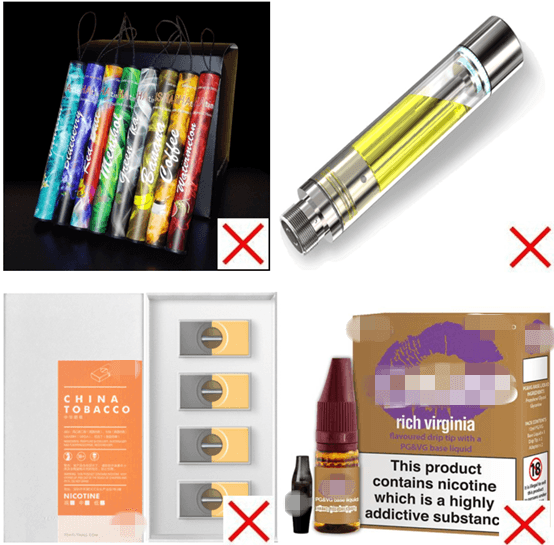 2. The posting and sale of flavors and fragrances are permitted, however these flavors and fragrances must not be displayed together with e-liquids. To avoid misleading buyers, tAlibaba.com will remove listings which may contain or be related with e-liquids contents. For example:
3. The listing of empty e-liquid bottles is permitted, but e-liquid bottles displayed together with liquids or containing e-liquids is forbidden. For example:
4. Product listings containing e-liquid ingredients (e-liquids consist of propylene glycol, vegetable glycerin, fragrances / flavors, nicotine, additives, water etc) that are not referred to as such will be seriously punished. For example:
You are required to remove all listings of products in violation of the above-mentioned rules ("Violations"). Alibaba.com will take strict measures in removal of Violations from September 1, 2017at zero penalty points. Violations discovered from and including September 8, 2017, will be subject to immediate removal by Alibaba.com, with corresponding penalty points concurrently applied. (Please refer to enforcement actions for prohibited and restricted products section 14, point 2. Liquids for use in electronic cigarettes for further information.)
Alibaba.com
September 4, 2017