< Back to list
Self-Balancing Electric Scooters Regulation Announcement (New)
October 29, 2016
Due to safety concerns, self-balancing electric scooters, commonly known as "hoverboards", traded on our platform must meet the highest quality requirements. The nature of these products includes serious risk of physical harm to users, and Alibaba.com is committed to mitigating this risk to whatever extent possible. In the interest of end users and suppliers alike, Alibaba.com will adhere to strict quality and safety standards regarding the marketing and sale of all of these products on our platform.
Any seller who wishes to sell self-balancing scooters on our platform must provide UL certifications and more supporting details as below:
(1) Please fill in the number of UL certifications and upload relevant pictures
(2) Please fill in the number printed on the laser marking of self-balancing electric scooter and upload the pictures of products with laser marking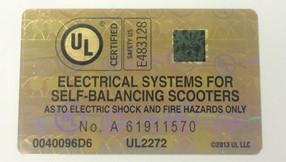 (UL laser marking)
(3) If you purchase the products from others, please ask your suppliers to give you relevant documents. At the same time, you should provide us with the contracts to prove the relationship between you and your suppliers.
All the certifications must represent for the complete machine and we do not accept the certifications for any single component.
Please click this link http://mycompany.alibaba.com/sp/form/selectBizType.htm to submit the certifications.
For reference
There is another essential thing that you should pay attention to. Since now, the hoverboard must release under the classification of "Self-balancing Electric Scooters". Later, we will lead the search results directly to the classification of "Self-balancing Electric Scooters" and the products under the classification of "Electric Scooters" will be deleted by us. We will start to delete products without authentication from 29th December, 2016.
Alibaba.com